Predominantly a tea lover nation, India is slowly embracing the taste of the coffee and coffee maker. We have recently witnessed a huge spurt in coffee, making coffee an excuse for usual hangouts.
The explosion of coffee culture can be seen since the start of coffee hubs like cafe coffee day or barista.
Seeing this culture shift, now Starbucks, global company seeing the enthusiasm has set out its footprints in almost all parts of our country, thus leaving us with no doubt that these coffee hubs have played a major role in publicising coffee as a tempting and modish beverage.
Also Read – Juicers, Solar Panels, Steam Irons
Not only for style statement but coffee as a beverage helps us to remove all fatigue ness of a day, improvise our energy levels and lowers the risk of type 2 diabetes.
Owning coffee machine at home is the root cause of the "original, fresh, invigorating and boldest coffee.
Speaking about coffee flavour, this when the coffee maker excels as it processes the coffee into a sleek machine that produces flavourful coffee quickly and efficiently.
Often an atmosphere is created where you can't step out to ease your craving for coffee and when you rush to your kitchen realizing how important a coffee maker is to you.
Why put in yourself in such a situation when you can have an expert right at your kitchen counter, just have the right ingredients, while you sit back and leave the rest to your machine.
Here are some of the best coffee makers which will not only serve a purpose at home but at restaurants, cafes, or hotels.
Best Coffee Maker in India 2021
1. PHILIPS COFFEE MAKER
Make your brew even more easy and fresh with aroma twister for a marvellous experience.
FEATURES
Design-Drip stop(which is a fix to allow coffee to brew) is provided to stop coffee brewing whenever you wish to, thus pour a cup of coffee before the brewing process is finished.
Aroma twister-This nozzle inside the jug enables evenly circulation of coffee for a tempting aroma and favourable taste
LED power switch-The red light lights when coffee makes is switched on.
The coffee maker comes with the black jug which is apt for 2 to 7 cups of coffee.
Easy to handle, a light device to carry it around the kitchen.
Water level indication-Fill the water accurately with help water level signs.
Easy to clean and maintain, feel free to clean its parts in the dishwasher.
Capacity-0.6 litre,
Brewing time– get your coffee ready in 10 minutes.
Warranty-2 years, Power-700 watts,
Voltage-230 volts.
2. JAYANTHI STOVETOP PERCOLATOR
A gas stove lover or regular use can too have tempting coffee in minutes at pocket price.
Also Read – Best Washing Machines and Best Air Conditioners
FEATURES
Colour- The coffee maker is black in colour.
Portable-a lightweight product to carry anywhere.
Easy to clean and maintain, after cleaning with water, easily wipe with a dry cloth.
Material- the product will last long as the material is of stainless steel.
Heat resistant handles will prevent your hands from turning red due to heat burn.
3. INSTACUPPA FRENCH PRES WITH 4 PARTS SUPERIOR FILTRATION
Now everyone can have flavourful coffee in their cups as each one of you out there deserves to be modish and stand out superiorly.
FEATURES
Elegance– its fine stainless steel finish makes it look finer and keeps away rust.
Durable- Coffee maker is made of borosilicate glass which doesn't break easily.
Indications levels-Measurement markings will let you pour water and add coffee ingredients accurately for preparing coffee.
Sturdy handle makes grip firm and strong.
Warranty- enjoy a one-year warranty take a sip without any worries.
Filteration system– This system makes sure cloudy free coffee.
Multipurpose- Fulfill your cravings from espresso, americano to cappuccino and latte, also make fruit juices from watermelon, orange and others.
Make 5 to 6 cups of coffee at one go.
A protective sleeve will not allow any scratches or marks on the glass surface.
2 extra mesh filters will not let you buy an extra filter for a long time.
A cleaning brush will make cleaning easy with its soft surface. Therefore presenting your coffee maker spanking new for a long time.
4. CAFE JEI FRENCH PRESS COFFEE MAKER
This another one to consider in your coffee maker selection list, 600 ml which serves enough for 2 to 5 cups.
FEATURES
Finest quality- The metal piece of coffee maker is made stainless steel, avoiding rust issues.
Borosilicate material is the reason behind elegant shine that can withstand boiling water, plus have delight watching the process of coffee brew.
The sturdy handle, make you hold the maker easily, it doesn't slip through your hands.
Warranty– get one-year warrant replacement period.
Multipurpose-Get and serve mouth-watering coffee, hot tea, frothy Cappucino or cold brew right from your kitchen.
Filteration system- This makes it perfect for preparing coffee or frothing milk efficiently.
Coffee measuring spoon-This is apt for pouring the right amount of ingredients.
5. BIALETTI MOKA ESPRESSO MAKER/PERCOLATOR/FILTER COFFEE MAKER
This Italian rich quality build coffee maker is itself a multitasker as its name suggest, if you are looking to serve 2 to 3 cups of coffee then it is a good find.
Also Read – Best Gas Stoves, Best Chimney, Dishwashers
FEATURES
Elegance- A high finish touch with polished aluminium in an octagon shape is surely a design to go for.
It uses ground coffee, doesn't work with instant coffee, goes for south Indian filter coffee.
Easy to rinse and maintain.
Its compact design will take less space in your kitchen.
Simply put it on your stove and wait for your tasty coffee.
6. MORPHY RICHARDS FRESCO 800-WATT ESPRESSO COFFEE MAKER
If you are really in love with coffee and indulging in its process, we suggest you this Morphy Richards 800 watt capacity and bid bye-bye to coffee shops.
FEATURES
Design-The parts are made of stainless steel which gives a brand new look for a longer period.
Watt-800, Operating voltage-210-250
Safety- Overheat protection is provided that automatically makes machine enter into malfunction protection mode in case of overheating.
Turbo cappuccino nozzle will let you churn rich frothy cappuccino.
Removable drip tray-In the process some coffee may drip which is collected on the drip tray, which can be easily removed hassle-free.
The fresco coffee maker comes with transparent glass jug/carafe that lets you see the right amount and process of coffee.
7. HARIO GLASS CAFE SLIM COFFEE MACHINE
This tiny looking glass will let your craving for black coffee vanish in no time.
FEATURES
A Perfect design-Qualit and heat resistant glass will not let your hands burn from the heat.
The sieve guard will ensure no damage and scratches on the glass surface, it will also keep your delicious coffee warm for a longer period.
Can fill up to 240 ml that is two small cups.
8. PREETHI CAFE ZEST CM 210 DRIP COFFEE MAKER
A unique one to churn ingredients into a delicious coffee with an efficient drip system.
FEATURES
A heat resistant handle to get rid away worries of burning hands.
A switch indicator lightens up as soon as power is on.
Warranty-1 year on product.
Power– 450 watts,operatimg voltage-230 volts.
450w heating element for faster brewing.
Safety-heat sensitive thermal fuse.
Extraordinary finish-it will take less space in your kitchen and also beautify your kitchen appearance.
Water level indication, lets you manage the amount of water to be poured.
9. SOLIMO ZING COFFEE MACHINE
Roll up your sleeve to prepare hot and steamy coffee with this stylish looking coffee zing machine.
Also Read – Best Microwaves, Best Water Purifiers, Coffee Maker
FEATURES
Quick process-A 600-watt power will give you fresh and hot coffee within 30 seconds to 7 minutes.
Drip stop mechanism-This mechanism automatically stops the coffee flow as soon as the glass carafe is removed, which will avoid unnecessary wastage of coffee and messy spills.
Detachable metallic filter-Now say goodbye to hygiene problems as the detachable filter will be easy to clean and wash whenever you feel like.
Water level indicator-This feature will probably save you lots of water as you will know the exact amount of water to be poured.
Glass carafe-A glass carafe has 600 ml capacity to serve at least 4-5 cups of coffee at one go.
Warranty-One year limited warranty.
Did you know?
Just get a hold on your yourself, while we get deep into your coffee drinks.
Coffee was originally chewed, many historians claim that African tribes used to grind berries together with some animal fat into small energy balls.
Brazil grows almost a third of the world's supply.
Coffee beans are actually seeded on the flowering shrubs, they are so-referred as they have a shape like legumes.
Though Finland doesn't produce beans, its citizens consume a good amount of coffee, hence it is called 'World's coffee capital'.
Espresso refers to pressed out in 'Italian', pushing boiling water through coffee grounds.
Drinking coffee can help your cat to live long, this may sound weird but a Guinness world record holder cat survived 38 years by drinking coffee every morning. Wow! That something amazing and unique.
The world's expensive and your favourite drink can cost $600 a pound.
100 cups of coffee can be a lethal dose.
Arabian culture followed a rule that a woman can divorce her husband if he didn't provide enough coffee.
There is a spa that let you bathe in coffee or tea."Unusual is a trend"
There were many trials to ban coffee as it was considered some sort of evil.
Different types of coffee beans
Ask any coffee lover he would call arabica its first love due to its taste, it is popular among coffee. Commonly used for black coffee, its flavour is sweet and soft to drink it straight.
Robusta-If you are going heavy on schedule, just have a cup of coffee made of robusta beans, it will straight away wake you up. It is cheap and the flavour is strong. It is especially used in espresso drinks.
Variety of coffee drinks
Black-Its process goes quite simple as ground coffee is boiled in hot water. It gets served with no milk.
Espresso-Espresso means 'to express' in Italian. It is made when boiling water is pushed through coffee grounds, doesn't include milk, just pure coffee which can be made in 18 to 20 seconds. This coffee maker also forms the foundation of many drinks such as cappucino, latte or mocha.
Cappucino-This one made with foam for those who like to have a creamy layer in their coffee. It consists of equal parts of espresso, steamed milk and frothed milk.
Latte-This particular stands out in your coffee as it is a combination of espresso and steamed milk with touch creamy foam, which makes it more demanding at coffee shops. Latte in Italian means'milk'.
Americano-Its nothing but similar to black coffee, it includes espresso shot which is diluted in hot water.
Cafe mocha-Quite popular among chocolate lovers, as it is a chocolate version of espresso. It includes steamed milk, frothy foam and to complete it you can put chocolate syrup above it and make your drink even more tempting.
Macchiato-The espresso form of coffee with a small ratio of steamed milk and little foam.
Indian(Madras)coffee-As you all know Karnataka is among few states of south India where coffee is produced in large quantities. South Indian filter coffee is made from dark, fresh roasted coffee Arabica.
Flat coffee-It is a simple cappuccino drink without any foam or chocolate.
Irish-This is something which can be unique for Indians but must try to drink. It is basically a black coffee with whiskey and sugar and foam on top of it.
Coffee deserts
If the above coffee drink can melt you, how about taking bites of coffee deserts making it a luscious combination.
Here we get you some amazing easy to cook recipes for a mouth-watering experience.
White chocolate cappuccino cookies-You very well know cookies don't wait to get finished when kept in front of family and friends. Don't worry by this recipe you can make more of them.
Process-
Just start with getting 2 packets of cappuccino mix with hot water. In large bowl cream butter, sugar till it becomes soft and fluffy, then pour cappucino mix water into the bowl and beat egg yolk into it.
Then in another bowl mix, some amount of flour with ground cinnamon and slowly put this into the mixture, make your dough, divide it into half and put it in your fridge for 30-35 minutes for once it becomes easy to roll.
Preheat your oven to 375 degrees, on a floured surface roll each portion of dough. Cut them into any shape you like, then place it on baking sheets to bake it for 10-12 minutes.
Wait until they turn into a dark brownish colour. At the end pipe as much as white candy coating on your ready to eat or serve cookies.
Small cheesecakes-These are loved by the majority now try to make it with coffee.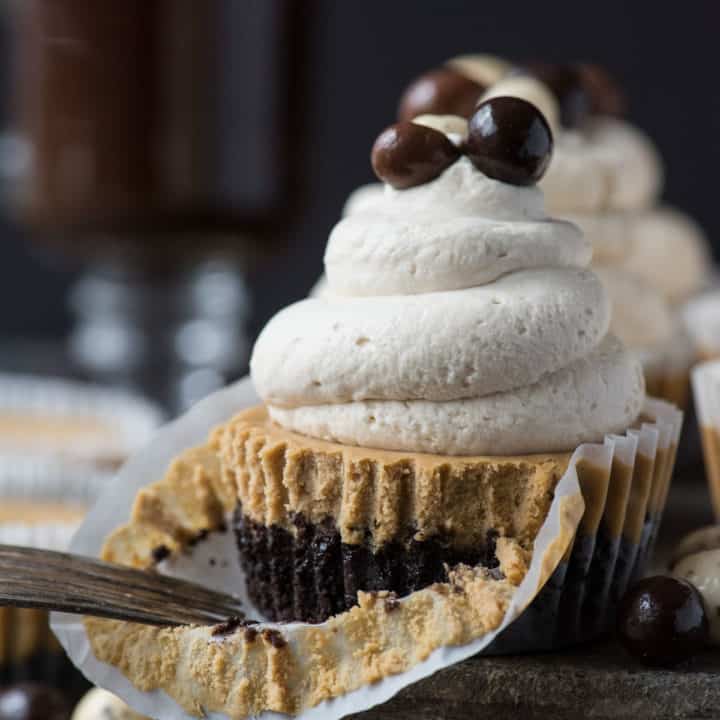 Process-
At first, put mini muffins with foil liners and preheat it to 325 degrees, then mix wafer crumbs and sugar, add butter and espresso to it and mix it well.
For the filling, melt chocolate in the microwave. In a separate bowl, beat cream cheese then gradually pour condensed milk until condensed. Then whisk chocolate mixture into cream chess mixture until it becomes smooth, add eggs and blend.
Fill in the ¼ cheesecake mixture into prepared cups, put in over for 17-20 minutes. Keep it to cool for 10 minutes.
You can pipe out the toppings with chocolate mixture.
3. Cappuccino cheesecake with caramel toppings
Process-
Preheat oven to 350 degrees, then place greased 9 in springform pan on foil which is thick. Now wrap foil around pan.
Place chocolate wafers, choco chips,½ cup brown sugar and 2 tablespoons of espresso powder and little ground nutmeg into a food processor, slowly add melted butter, pressing mixture till the bottom.
In a large bowl, beat cream cheese and brown sugar together. Beat in sour cream, flour and espresso powder. Beat eggs until mixed. Then place springform pan in a larger baking pan, add in hot water to larger pan.
Bake it till 55-56 minutes, loosen the sides of cake from pan with pan, then let it cool till one hour.
Finally pour caramel toppings on cheesecake, and refrigerate it overnight. Your yummy caramel cake is ready to eat.
BUYING GUIDE FOR BEST COFFEE MAKER IN INDIA
WHAT TO LOOK WHEN BUYING A COFFEE MAKER
As much as we take bliss in hanging out in coffee shops for a couple of hours, nothing beat than the leisure of brewing coffee at home, and today in our wrapped our life we can bring the joy of coffee drink at your home.
A delicious cup of coffee can bring a jovial mood to start the day with an efficient coffee maker.
Each individual differs in their needs, choices and requirements, Hence utmost attention should be given to the points stated as we bring you some critical factors to find you a perfect match.
What is the best coffee machine?
Advancement in technology and involving in up-gradation are equally important. Evolution in India has witnessed the innovation of different types of coffee machines with increasing demand for coffee in our country.
Hence we are providing detailed information to help you choose the right one.
1)Drip coffee makers-people generally use this type of machines as it is simple to use to maintain, which comes in several shapes and sizes.
The automatic ones come with several features like tank chamber for water and filter to load coffee grounds.
This one makes you make any type of coffee from flavoured, bold to a strong one.
The hot water will mix up through coffee grounds into the glass jug(carafe).
Sudden parties require large servings for large gatherings and here this drip-maker will play its role.
People who like to start their day with bold coffee and in less time, this one is must-have.
Even the maintenance cost is low.
2)Single-serve coffee maker-all you need is coffee grounds to be poured into the maker and your coffee is ready instantly. People living alone or having 2 to 3 members in their family will find this one useful.
Even at offices where employees can brew according to their taste.
The appliance is also compact which will take less space in your kitchen, easy to clean and maintain.
Going to the prices, it can be said that it is very much affordable.
3)Fresh press coffee makers-This one is simple and easy to operate and use as it uses the traditional method to prepare coffee by using coffee grounds and boiling water into the appliance and pressing the lid to suppress the contents to the bottom.
Also Read – Dishwashers, Hand Blenders, Peelers
It is cost-effective in a way that it doesn't require filter replacements and electricity to run.
This is apt for those who like to have coffee wherever they go while travelling or in office.
4) Cappuccino and espresso machine-You can usually this kind of machines in cafes as it is most demanded and slightly expensive one. If you crave for strong and rejuvenating coffee, then you should lose your pocket on this.
You can have a high range of good quality coffee like a latte, macchiatos cappuccino and others.
It comes with several functions like automatic temperature settings, water boiler, glass jug(carafe) and filter.
5)Percolators– They can run on both electricity and stovetop.
Things to look in a coffee maker
1)Capacity-It tells us the amount of coffee a coffee maker can brew at one time. You can make out by a number of cups it can fill at one go.
One cup of coffee drink is apt for individuals who live alone like college students or who stay at paying guests with 2-3 others, while coffee makers with large brewing capacity is good for serving large family members.
2)Built-in filters– A regular coffee drinker should look into this matter as regular cleaning of filters can hamper the efficiency, hence purchase that coffee maker with removable filter.
Avoid the inconvenience of getting it cleaned periodically.
3)Brewing time-Ask a regular coffee drinker, he/she would love to make multiple times a day, then it is better you purchase a coffee maker with a thermal carafe along with its cover to keep the coffee warmer for a long period, for those who prefer one or two times a day a simple one is more than enough.
4)Temperature control-A machine with efficient and adjustable temperature settings can help to coffee strength change from stronger to a lighter cup of coffee, which totally depends on you.
Temperature control is must notice feature for your coffee maker to produce a delicious coffee.
5)Thermal fuse- If your schedule seems a bit busy and consumes coffee while on work, then the presence of thermal fuse becomes important as it helps to reduce the heat beyond temperature so that machine works fine and perfect. It also prevents your coffee to get burnt.
This particular feature will not get heavy on your electricity bill as it consumes less power.
5)Material-A good material will be a crucial factor of life of your coffee machine.
The parts are made of stainless steel materials, hence they will prevent your rust issues.
Above that, it gives an elegant and stylish look to your kitchen too.
Considering the health of the coffee maker is very important,so read the features and its making.
6)Power-This is yet another important factor, as it caters to speed, capacity and time feature of the coffee machine, higher the number of watts, higher efficient it becomes in its overall performance.
7)Carafe-Most carafe comes in stainless steel,thermal or glass carafe,it your choice what to purchase.Normally people like to purchase glass carafe as you can see the process through a glass which is a pleasing experience.
Stainless steel or thermal carafes helps the coffee temperature for a longer period.
7)Economy-The right combination of customer satisfaction at the right price is a little tough but you can easily do it with the right guidance.
Don't fall for a cheap price and end up getting an unsatisfactory product with defective functions, so its better to pay a little higher amount and enjoy the good life of a coffee maker as this product is bought once in 2 years, hence it will not pinch to pay for a good experience.
8)Maintenance- Any machine need good maintenance on your part for your maker to live long.
Just read the manual properly, check at what intervals it requires cleaning, or if its parts are removable that can be washed with hands.
Check which parts are dishwasher safe.
If you want to escape this tedious job then buy single-serve coffee maker which does not require every time cleaning.
9)Ease of use-Try to adjust your coffee maker near the ingredients required for coffee and near electric switch which prevents the extra load of carrying coffee maker every time you want to make coffee.
Frequently asked questions–Best coffee maker in India
Which coffee maker makes the best coffee?
Ans-All drip,single-serve and espresso machines are truly efficient to make hot coffee that will lighten up your weariness.
Are drip coffee makers cheap in price?
Ans- Normal drip machines are cheaper when compared to other coffee makers, but it can always vary in its price depending upon its new technology functions, features or accessories.
Which is the best coffee maker to purchase?
Ans- Through extensive search, we got you best coffee makers from best brands that are bought in India, it totally depends upon your taste which one will you go for.
As some might prefer a strong one, while some can prefer soft mild and accordingly use caffeine levels.
What is the best espresso machine?
Ans-Higher the number of watts, higher will be its efficiency.
Read the power features of the espresso machines, try to buy an 800-watts power espresso machine.
Are coffee makers easy to clean or wash?
Ans-. You can wash the removable parts of the coffee maker, you can read the manual for directions, wash the outside part with a damp cloth.
For the outer part use a damp cloth or wet tissue paper for removing stains.
5. Which brands to go for?
Ans-Usually people go, Morphy Richards Fresco, Philips and Preethi are some of the popular brands in India?
6.Do these machines last long?
Ans-It highly depends on which brand you go for, but cleaning at regular intervals matters a lot, as a machine, it needs proper Maintainance. While purchasing consider stainless steel material which defines durability.
7.Do they consume a lot of electricity?
Ans-A heavy coffee drinker may notice a slight change in its electricity bill but 4 – 6cups or family of 4-5 members can easily manage, it will not impact much on your bill.
Conclusion
Coffee a drink is not only growing among youngsters but also adults who are indulging in a variety of coffee culture.
Indians too are gradually accepting the coffee culture,thus making their hangouts special in coffee hubs.
It will a little confusing at the start but gradually you'll embrace the coffee process, hence we bought you buying guide for how to go about it.
Predominantly a tea lover nation, India is slowly embracing the taste of the coffee.
We have recently witnessed a huge spurt in coffee, making coffee an excuse for usual hangouts.
Since the start of coffee days, the explosion of coffee culture seems to have burst out.
Seeing this culture shift, now Starbucks, global company seeing the enthusiasm has set out its footprints in almost all parts of our country, thus leaving us with no doubt that these coffee hubs have played a major role in publicising coffee as a tempting and modish beverage.
Not only for style statement but coffee as a beverage helps us to remove all fatigue ness of a day, improvise our energy levels and lowers the risk of type 2 diabetes.
Owing to a coffee machine at home is the root cause of the "original, fresh, invigorating and boldest coffee.
Speaking about coffee flavour, this when the coffee maker excels as it processes the coffee into a sleek machine that produces flavourful coffee quickly and efficiently.
Why put in yourself in such a situation when you can have an expert right at your kitchen counter, just have the right ingredients, while you sit back and leave the rest to your machine.
Here are some best coffee makers which will not only serve a purpose at home but at restaurants, cafes or hotels